Learn how to set up your payment processing
The integrated payment services allow your customers to pay for bookings with credit cards such as Visa, MasterCard or American Express as well as Apple Pay, Google Pay, Giropay, iDEAL, Bancontact and many more. The services also provide automatic charging, transfer to your bank account and automatic refunds for cancellations.
⚠️ Payment services are only available for customers in select countries
Due to regulatory limitations, the integrated payment services are only available to companies in the following countries: Australia, Austria, Belgium, Bulgaria, Canada, Croatia, Cyprus, Czech Republic, Denmark, Estonia, Finland, France, Germany, Greece, Hungary, Ireland, Italy, Latvia, Lithuania, Luxembourg, Malta, Netherlands, New Zealand, Norway, Poland, Portugal, Romania, Slovakia, Spain, Sweden, Switzerland, United Kingdom of Great Britain and Northern Ireland, United States of America
These limitations have no effect on the acceptance of your consumers payments. Regulatory limitations restrict LODGEA from providing payment services to our customers outside the mentioned countries and legislative regions. If you reside outside these countries and wish to activate payment services, kindly contact the support team to check if you might be eligible.
Creating your payment account
In order to be able to process payments on your behalf, you need to sign up to the payment services. By signing up, we will register your company with our payment services provider and operate your payment account on your behalf. Ensure to carefully review our payment terms and conditions and provide the correct details about your company. You may be required to provide further information after creating your payment services account.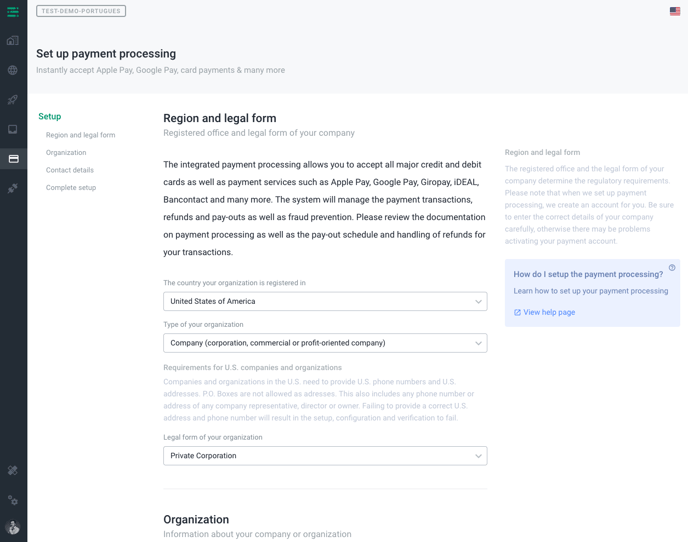 After you have created your account, you may be asked to provide further details to verify your account. Verifying your account is required as the financial services providers are legally required to identify your company or organisation before being allowed to process payments and transfer funds.
Verifying your organisation
An indicator on the company information section within the payment processing will indicate if any further information are required to verify your account. These information include the industry your company operates in, the registration information such as tax registration or registered court as well as the bank account. Further you will need to provide the identification and information of all people associated with your organisation or company.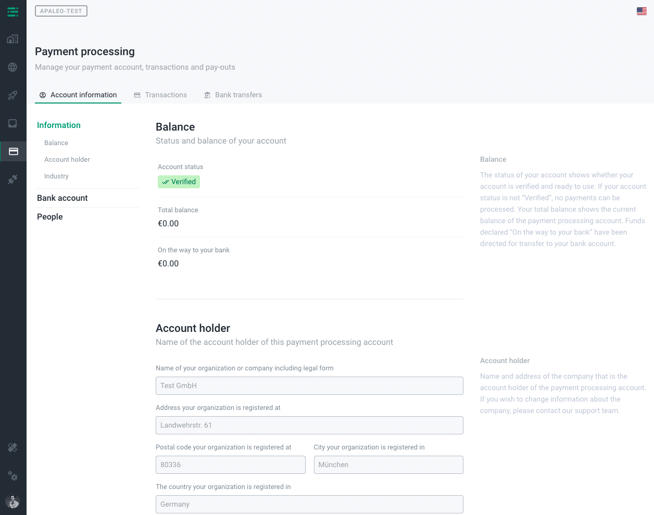 ⚠️ Apply due care and attention when registering
Your provided company, organisation and personal information will be reviewed by our financial services partners in accordance with ours and their privacy regulation as well as our payment services' terms of service. We will not store your personal information, but only forward these to our partners. Depending on the location and jurisdiction of your organisation, our financial services providers may require different processing steps. Provide the most accurate and up-to-date information to ensure a smooth onboarding process.
Once your payment processing account shows as verified in the console, you can go ahead and activate payment processing on your storefronts or websites. You will also need to activate properties to require prepayment as otherwise the payment processing will not activate.
During a trial period the payment processing can´t be activated! You need an active LODGEA subscription to use the payment processing.