Connecting vOffice to LODGEA
vOffice is a property management and channel management solution for vacation rental agencies and operators. The vOffice connection supports a full two-way synchronization including text content, images, amenities, availability and bookings. Coupon codes, discount codes or vouchers are also supported. The connection can also selectively synchronize specific properties or your entire inventory.
Steps to connect vOffice
1. Request an API key from the vOffice support or your account manager
2. Ask the vOffice support or your account manager to enable all properties
3. Create a vOffice connection in the management console using your API key
4. Finish the connection and configuration and wait for the import to finish
Creating a new vOffice connection
The vOffice connection allows multiple connections, so that you can connect as many vOffice systems to LODGEA as you like. Vice verse, you can connect as many LODGEA systems to your vOffice system as you like. Once you have received your API key from vOffice, you can go ahead and create a connection in the connectivity section of the Management Console.
Make sure the API key is configured for full export
vOffice API keys can be configured to export only a specific amount of content and information. If your import is missing important information that are available in your vOffice system, ask the vOffice support to enable all properties and data fields for your API key. If you still encounter issues with the content import, you can get in touch with the LODGEA support for assistance.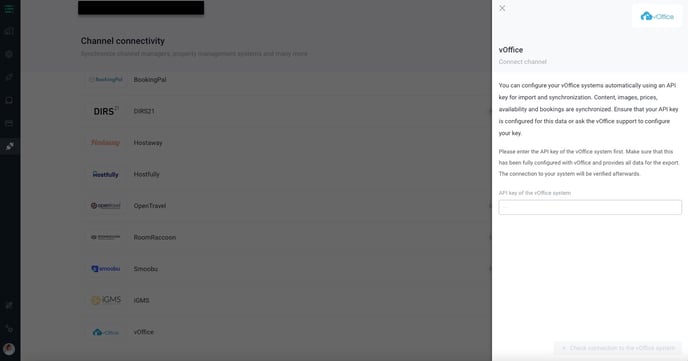 Once you have inserted the API key, you can check the connection. If the connection to your vOffice system was successful, it'll show the connection dialog to finalize the configuration. There are a number of configuration options for the import of your properties.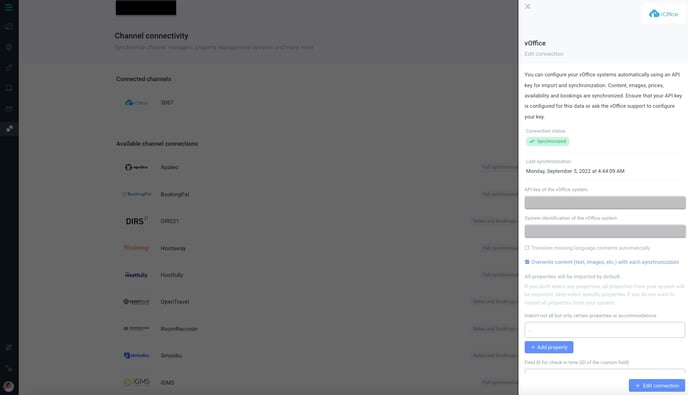 Translate missing language contents
If enabled, any missing text content of a property will be translated into your configured languages automatically. Please note that the automatic translation is triggered whenever and import occurs and will result in translation charges if used for a large amount of properties. The automatic translation will operate at least once per day.
Overwrite content with each synchronization
If enabled, all properties' contents including descriptions, amenities, images and other text contents will be overwritten with every import. If disabled, the property and its contents will only be imported once and then subsequently only the availability, policies, prices, rates and bookings will be snychronized. If you wish to change the content and appearance of your vOffice properties in LODGEA, you need to turn this option off.
Import only certain properties
By default, the vOffice connection will import all properties. If you only want to import a specific subset of your properties, you can select them with Import not all but only certain properties or accommodations option. The synchronization will then only import the properties defined in the list and you can change the property list at any time.
It takes 15 to 90 minutes for the import to finish
The initial import will take 15 to 90 minutes to finish importing and processing your properties. Subsequent synchronisations will be processed once per hour and a full content import will be processed once per day at 1 A.M. (CET). The availability of properties will be checked instantly with your vOffice system once a guest proceeds to the booking and payment process.
Apply the new connection and wait
Once you have created the new vOffice connection, it will appear with the status Awaiting synchronization. It will take up to 90 minutes for all your properties to be synchronized. Depending on the amount of properties you are importing, it may take the system further 60-90 minutes to finish the processing of your properties and for them to become available on your websites.
Voucher and coupon codes
LODGEA supports both coupon as well as voucher or discount codes in vOffice. Guests can enter both discount codes as well as coupons and apply them to their booking. The coupon codes as well as discount codes will also be synchronized with vOffice and transmitted alongside the booking record when the guest makes a booking.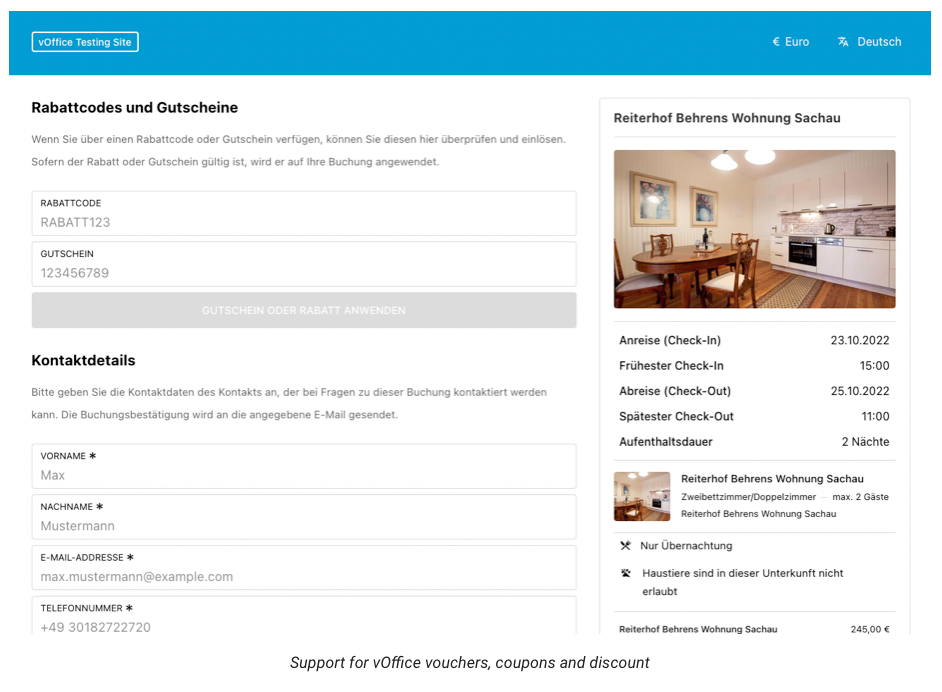 Coupons will not be refunded with cancellations
When using the integrated payment processing in combination with vOffice coupon codes, the total amount will be reduced by the amount of the coupon up to even zero when the coupon exceeds the total amount of the booking. If the booking is cancelled, the integrated payment processing will only refund the amount processed. The refund will not process any coupons and if you wish to refund coupons, you need to refund them yourself in vOffice if applicable.
Cancellations need to be made in vOffice
Guests cannot use the cancellation through LODGEA and cancellation through your website will not be shown to your guests. Currently the connection between vOffice and LODGEA does not allow LODGEA to perform cancellations. However, cancellations made inside vOffice are observed by LODGEA and processed accordingly. Including the automatic refund of payments if made through LODGEA's integrated payment processing.