Learn how to connect RoomRaccoon to LODGEA
RoomRaccoon is an All-in-one Hotel Management Software with channel management capabilities and PMS functionality. The connection to RoomRaccoon supports synchronization of availability and rate information as well as bookings.
Prerequisites before connecting
Before requesting the connection of the property through RoomRaccon, create the property, the rooms and the rates in your inventory. The rooms and rates need to match those configured in RoomRaccoon as you will have to map the rooms and rates within the RoomRaccoon system.
✅ Steps to complete before connecting
1. Create each RoomRaccoon property in the Management Console
2. Create all rooms and rate plans exactly as in RoomRaccoon
3. Enable the RoomRaccoon connection and the desired properties
4. Request RoomRaccoon to perform the initial rate import
You only need to activate the RoomRaccoon connection once. Any RoomRaccoon properties that you wish to connect only require the property code (also referred to as hotel code) to be able to synchronise.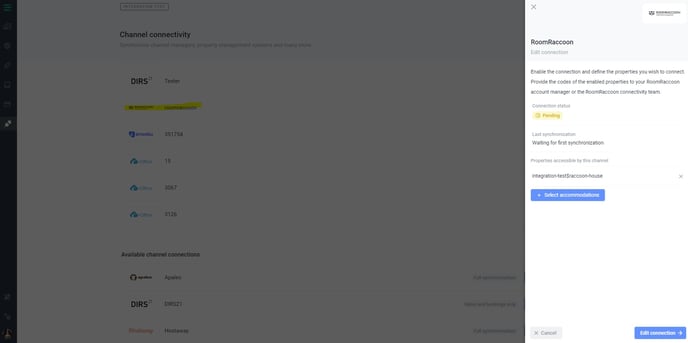 Mapping rates and bookings
The property or hotelier itself needs to map the rates, you created within LODGEA, with the rates in RoomRaccoon. Once the mapping is completed, the rates, availability and prices will be synchronised automatically. Bookings will also be transmitted to RoomRaccoon immediately. If you have trouble synchronising, ensure to have completed the above steps.
▶️ Occupancy-based length of stay pricing
RoomRaccoon supports pricing based on occupancy and length of stay. You may need to configure several separate rates in LODGEA to match the occupancy-based rates in RoomRaccoon. Carefully review the LODGEA availability and rate management to match the your configuration in RoomRaccoon.