Connecting Apaleo to LODGEA
Apaleo is an open hospitality platform allowing you to manage your properties, reservation, operations and much more. It can be easily connected to LODGEA and the synchronization includes both rates, availability as well as all base data and reservations.
Channel code used for synchronization
---
By default, LODGEA will synchronize all properties, units, rate plans, rates and availability that are available to the channel code IBE. If you wish to use a different channel code for synchronization with your LODGEA environment, kindly contact the support team for assistance.
Limitations of the apaleo connection
---
Additional services, not included in the rate, are not supported
Only Prepayment and 6 PM Hold are supported as guarantee
Unit attributes cannot be automatically synchronized
Flat fee cancellation charges are not fully supported
The cancellation fee cannot be waived through apaleo
LODGEA uses international standards defined in the OpenTravel.org specification and maps the source data to these standards. As services and unit attributes are free-form text entries in apaleo, LODGEA cannot map those to the OpenTravel.org attribute specifications. You will be required to add these information in the LODGEA inventory management.
Connecting your apaleo environment
In order to connect your apaleo environment, go to the connectivity section and click the "Connect channel" button of the apaleo-connection under "Available channel connections". You will be prompted to sign in to your apaleo account and authorize LODGEA to connect to your apaleo environment.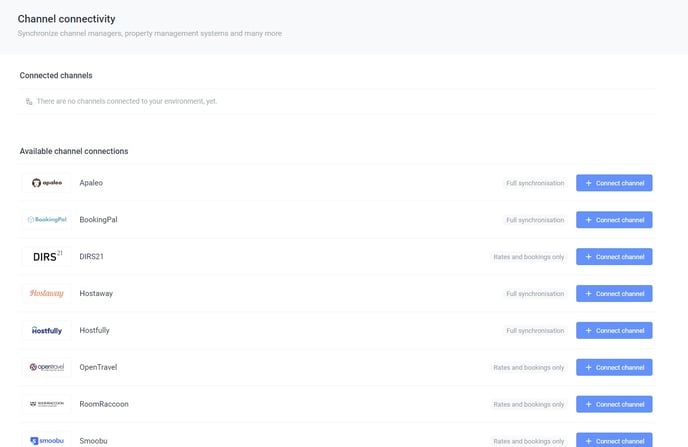 apaleo connection option in the connectivity configuration
After you have authorized LODGEA to connect to your apaleo environment, you will see apaleo appear as "awaiting synchronization". Once it appears as "synchronized", you will see all available properties in the inventory management. The properties are not automatically activated for booking to allow adding the missing descriptions, images and attributes.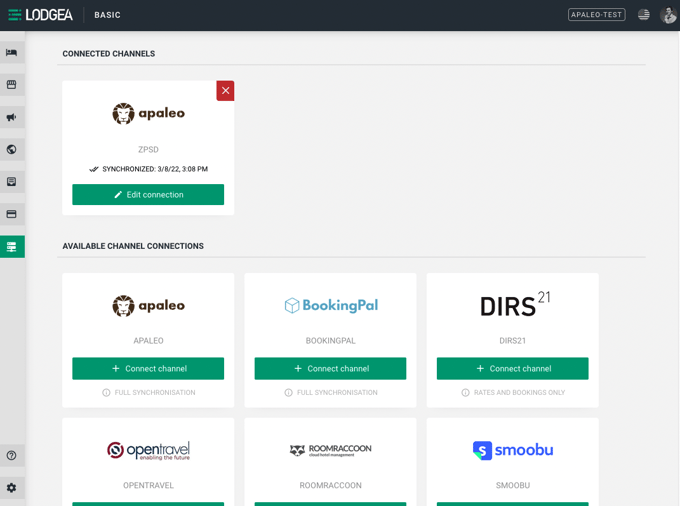 apaleo connection established in the connectivity configuration
Once the connection is established and your environment synchronized, LODGEA will automatically receive all properties, units, rate plans, rates and availability available to the channel code IBE. It may take a few seconds for changes in apaleo to become available in the LODGEA Management Console.
Activating your properties for booking
You can finalise the contents of your property, upload images, add descriptions, amenities, services etc. Contents of your property will not be overwritten by the connection. The connection will only synchronize the rates, availability, rate plans and policies.