IONOS is the cloud service provider of United Internet and one of the largest internet service providers in Germany. It provides cloud services, domain registration and other services. You can easily connect your domain that your registered with IONOS in the LODGEA Management Console. Please ensure that you have access to your IONOS by 1&1 account before.
We have provided the tutorials on IONOS in German language as the service is mostly used by German speakers. Check out the step described in the Domain configuration introduction as you might find additional information about the process there.
Domain verification with IONOS
You can create a new DNS record both for the TXT records required as well as for the CNAME records through the Record hinzufügen function in your DNS management section of the IONOS configuration.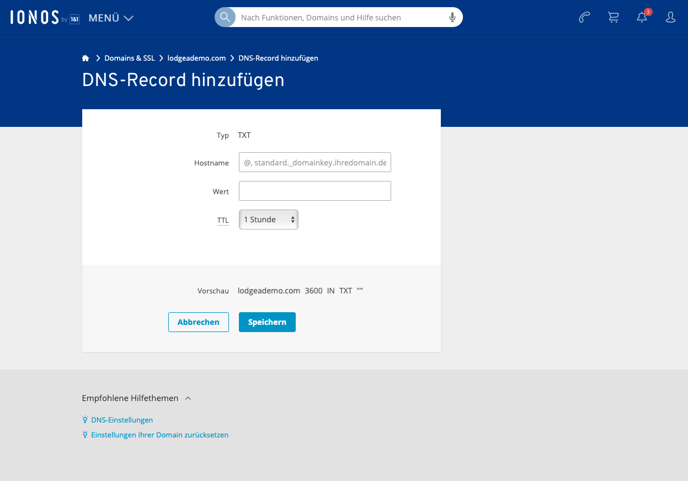 Please consult the IONOS documentation for addtional information on how to connect your domain. A step-by-step guide from IONOS on how to create CNAME records can be found in the IONOS documentation under CNAME-Record für eine bestehende Subdomain konfigurieren.
CNAME configuration and redirects
⚠️ A redirect is entirely optional
If you already have a main website and only need LODGEA for the booking engine and marketing automation part, there is no need to configure a redirect.
You can only configure sub-domains to be used with your site or booking engine. If you want to use LODGEA for your entire website and not have any other sites under the root domain, you can use the redirect functionality. In that case, we recommend you connect the domain www.mysite.de in the Management Console and configure IONOS to do an HTTP redirect for your domain mysite.de. If you only wish to use a subdomain, you can proceed as described above and do not need a redirect.
If you wish to switch domains later, you can do that at any time. Remember that changing domains has a signficant effect on your search engine and social media rankings. You should be very careful on how you organise your domains. Changing a domain carelessly can lead to your site not being reachable by search engine and social media robots.