GoDaddy is one of the largest domain providers worldwide and provides a variety of Internet services in addition to domains. You can connect your GoDaddy domain in 3 simple and easy steps. Just remember that it takes time for the DNS records and servers to update or propagate as it is called.
You can find more detailed information about creating TXT and CNAME records in the GoDaddy documentation under Add a TXT record as well as Add a CNAME record. Please contact the GoDaddy support if you are having trouble creating DNS records.
CNAME, subdomains and redirect
If you solely want to use your domain with LODGEA, we recommend you connect the domain www.mysite.com (including the www) and redirect your root domain mysite.com to www.mysite.com. LODGEA cannot connect root domains such as just-a-site.com as root domains (A-Records to be specific) do not allow CNAME records. GoDaddy allows redirect configuration in the DNS configuration of your domain.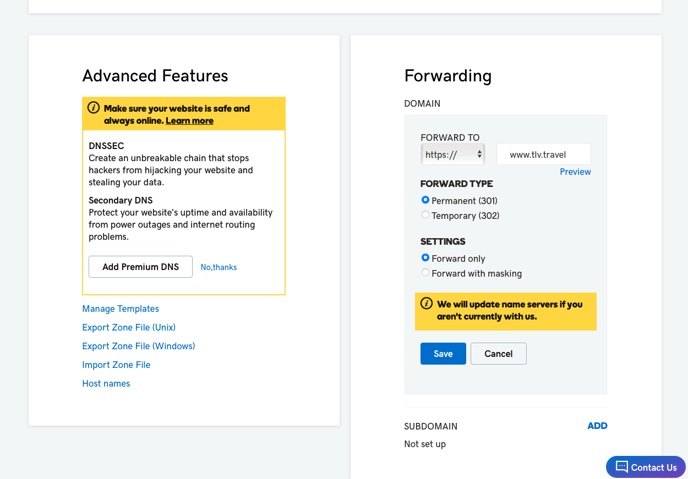 LODGEA is very flexible with the domain registration and so is GoDaddy. How you want to integrate LODGEA solely depends on what you want to achieve. If you already have a main site and just want to use LODGEA for the booking engine and marketing automation while keeping your main site, we recommend you just use a sub-domain. If you solely want to use LODGEA for your domain, you can use the www-subdomain alongside a redirect of your root domain.